Marion Ida Kavanaugh Wachtel
June 10, 1870(6?) - May 22, 1954

At the end of the first post of this Blog, I included a photograph of Marion Wachtel along with one of her pieces. As a well-known tonalist, plein-air watercolorist, and later, painter with oils, Wachtel deserves a post of her own.
Wachtel was born in Milwaukee, Wisconsin to a family that was fully committed to the pursuit of art. Her mother, Jean, and her great grandfather, who had been a member of the Royal Academy in London, were both artists.[1] Jean was a leading Milwaukee painter and teacher with whom Wachtel studied at a young age. She went on to study with Henry Spread in Chicago, with John H. Vanderpoel, Pauline Doane, and Frederick Freer at the Art Institute of Chicago, and with William Merrit Chase in New York. [2]
In her early career, Marion Wachtel taught in the Chicago public schools and at the Art Institute where she established a reputation as a portrait painter, but she was unhappy in the classroom. In 1903, one of her landscapes made an impression on a vice president for the Santa Fe Railroad. When he offered her free passage to California in exchange for murals of Western landscapes for their San Francisco ticket offices, she eagerly accepted the proposition.
Fairly well traveled, Wachtel had already visited California, however, the 1903 trip proved to be pivotal to the future of both her life and her career. In order to encourage tourism, the Santa Fe Railway crossed the desert and stopped at scenic spots such as Santa Fe, New Mexico, and the Grand Canyon in Arizona where Wachtel took advantage of the rugged beauty of the areas and sketched along the trip. In these locations, Marion was exposed to the Pueblos of Zia, Cochiti, Santa Clara, and San Ildefonso (home of Maria Martinez), places she would return to and paint in later years.

When she reached California, Wachtel visited the Cooper Ranch in Santa Barbara,owned by Ellwood Cooper (1829-1918), an agriculturist and horticulturist who not only published several treatises on California produce but grew olives, grapes, English walnuts, European almonds, oranges, lemons and Japanese persimmons. He was the first farmer in the U. S. to produce and market olive oil. [3] Wachtel spent several months on the ranch enjoying the beauty of the Santa Barbara area, making sketches of the coastal range and eucalyptus trees cultivated by Cooper who was convinced that it was the "tree of the future for California." [4]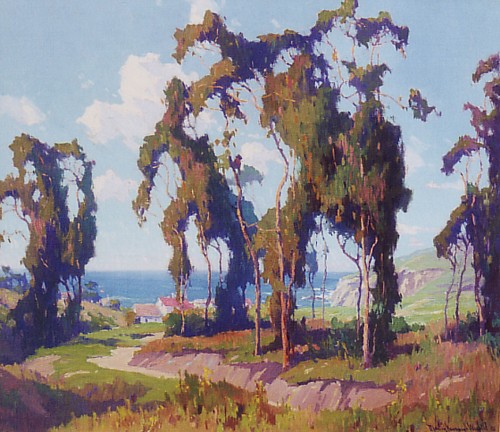 Marion Kavanaugh Wachtel
Coastal Eucalyptus
Oil on canvas
28 x 32 inches
n.d.

Wachtel exhibited her work in San Francisco and studied there with William Keith. It is also where she likely met her future husband, Elmer Wachtel, a talented violinist and painter. In less than one year, they courted and married in Chicago, then settled in Pasadena, California, a suburb of Los Angeles. Although Pasadena became her home, Wachtel used the Western United States and Mexico as her studio.

For 25 years, she and her husband painted together in California, Arizona, the High Sierras, the sea coast, and Mexico where Elmer died in 1929. [5]

Marion Kavanaugh Wachtel
Lake Mary, Sierras
Oil on canvas
28 x 36 inches
n.d.

Marion Kavanaugh Wachtel
Monterey Coast
Oil on canvas on board
13 3/4 x 18 inches
n.d.

The artist exhibited her work from the early 1900s until her death in 1954. Wachtel demonstrated a love for the natural light in the West and for beautiful forms in nature. Her painting style evolved over time as she began her work with a tightly controlled brush with meticulous detail, and moved to a more organic, painterly style of rendering. She was a popular painter in both California and in the East where her work was featured in galleries in St. Louis, Detroit, Arizona, Rhode Island, Brooklyn and in California from San Francisco to San Diego.
Wachtel was elected to the New York Water Color Club in 1911, was elected an associate of the American Water Color Society in 1912, and was a founding member of the California Water Color Society in 1921. She also held memberships in the Pasadena Society of Artists and the Academy of Western Painters. [6]
In her final years, she continued to paint the landscapes around her home including the Arroyo Seco and the foothills of the San Gabriel Mountains. Marion Wachtel died at home in Pasadena on May 22, 1954.
Marion Kavanaugh Wachtel
Spring in the Foothills
Oil on Canvas
n.d.
Private Collection
______________________________
1. Stern, Jean. Marion Kavanaugh Wachtel: 1870-1954. Published in Resource Library on July 14, 2010

with the permission of the Hearst Art Gallery at Saint Mary's College and the author,

http://www.tfaoi.com/aa/9aa/9aa375.htm. (Accessed January 7, 2013).
2. Ibid.
3. Ibid.
4. Ibid.
5. Marion Kavanaugh Wachtel: 186-1954. http://marionwachtelpaintings.com/Marion%20Wachtel%20Biography%20Page.htm. (Accessed January 8, 2013).
6. Stern, Jean. Marion Kavanagh Wachtel: 1870-1954.